A4. Table-banking in rural Kenya

Context
Nyakinyua village Nyakinyua village is an area located 7 km from Molo Town in Kuresoi Constituency, Nakuru County. The area is purely agricultural with over 98% of the people being subsistence farmers. Land parcels have continued to get smaller and smaller as families subdivide the land and pass it down to their children.  Average land sizes were 1.4 acre (0.4 ha) initially, and this has continually reduced with even smaller pieces of land that can only accommodate a 3-room house.  This has led to over-reliance on the small pieces of land and further afield forest products for survival among many men and youths, leaving many people living below poverty line and just getting by. There is need to diversify, but this is not possible without the options of borrowing money to invest, as is possible with other "bankable citizens." Due to climate change the community is increasingly facing unpredictable weather patterns further deteriorating the environment they live in and their livelihoods, making it even more difficult when they have to rely on food crops alone for their survival. The challenges for Nyakinyua are many and include lack of governmental support, limited contact with people outside the village, rain fed agriculture only with no equipment or fertilisers, clashes between ethnical groups at the time of the previous election in 2007 and HIV/AIDS. The life in Nyakinyua is based on the cultivation of potatoes, peas, beans, cabbage at small land lots and collection of firewood. The village is faced with many orphans who do not attend school, young people who do not start families and alcohol abuse.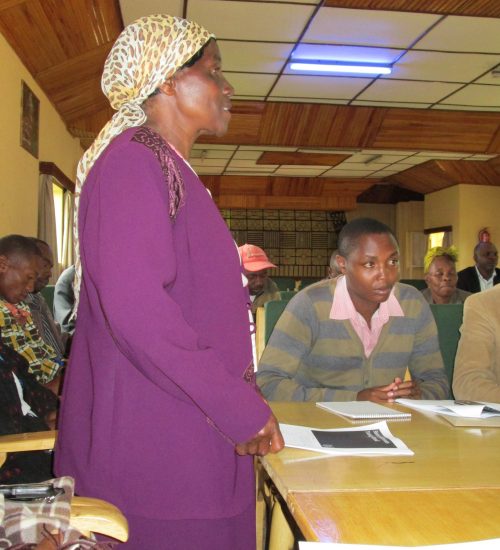 Our partner
Amani Women Group (AWG) is a Community Based Organization based in Nyakinyua, Molo. Amani Women Grouo was established in 1995, as a seller group for pyrethrum crop, a cash crop grown in Molo up to the late 90s. The group was destabilized after Post-Election Violence that occurred in Kenya in 2008 and Molo was heavily affected. The destruction and deaths in the area caused many people to move out of the village. The group seeks to enhance their livelihoods by coming together, saving a few dollars each week to create some funds they can use to borrow and lend for their economic empowerment. At the initial stages, fifteen people (10 women and 5 men) came together and saved an equal amount each month.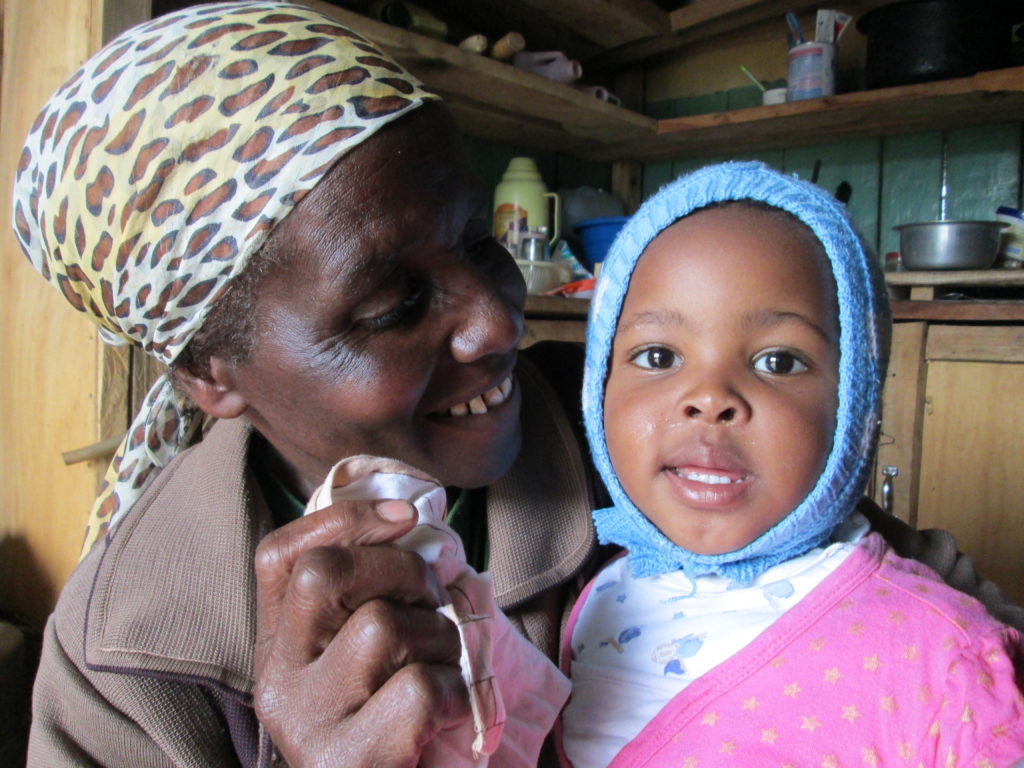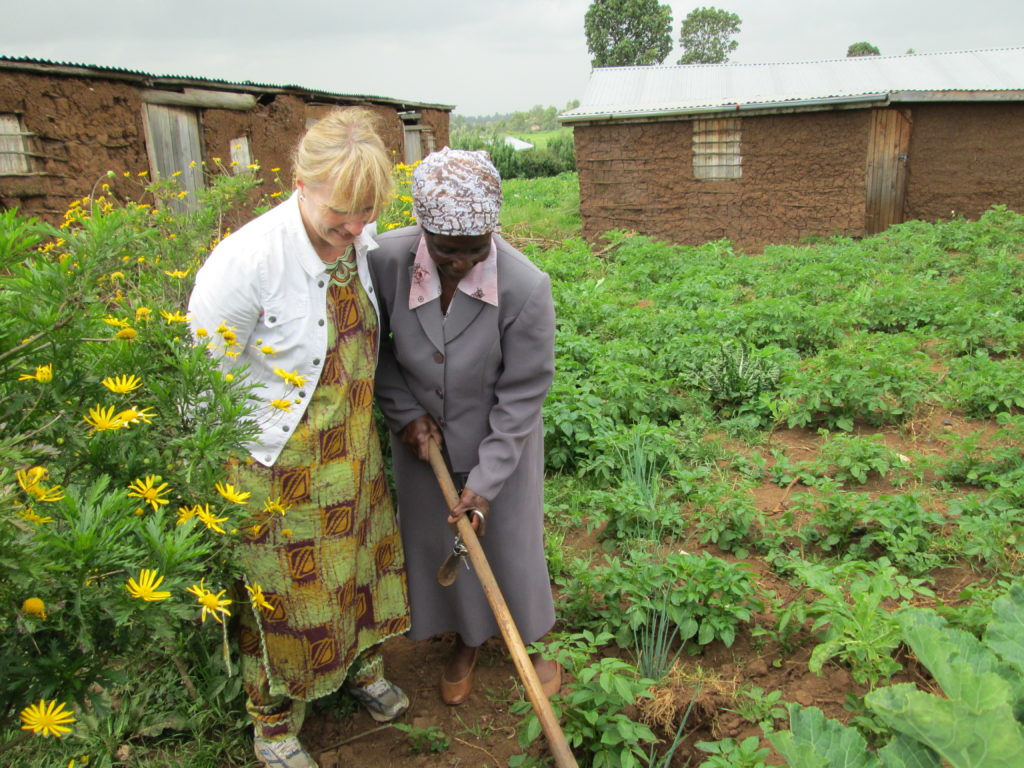 Table banking
Table banking is a concept that has gained popularity in the recent past in Kenya. The aim of this kind of banking is to enhance the socio-economic status of citizens, particularly those from poor areas of the country that are "unbankable". Poverty has been an issue in less developed areas partly due to the high interest rate that is imposed on the loans by financial institutions and the demand for collateral, without which most people cannot access loans. Economic disempowerment not only affects development of the affected areas but the cyclic nature of poverty, which then means that people are not able to get out of the situation they are in. This continues to affect their livelihoods and importantly education of the young people. 
Most table banking initiatives begin as "merry go rounds" and it is mainly women who are involved. A merry go round means women come together, contribute an amount of money per month or week, and then the amount is given to one person for the month. The next time a different person gets an equivalent. This continues until the last person's turn comes and he/she gets the same amount. The underside of this is that one cannot get big sums of money to revamp a business, but mainly for household items or food and occasionally school fees. If the merry go round takes a year, a member still gets the same amount. Table banking takes this a notch higher. If well organised, families benefit enormously. The group meets together, they build and enjoy social capital, they share in their issues and participate in decision making, and they cultivate the culture of savings and are then able to take small loans which then enable them to sort out issues like school fees, buy inputs for their shambas (land) and even start small businesses. The main aim being to support their families and reduce dependence on handouts.
Achievements
The initiative was developed as a result of various discussions by members of Amani Women Group. The initial membership for this specific initiative is 15 members. This number may increase with time as per the by-laws. New members will be admitted only following the agreement of the entire group. The members have agreed to make a contribution of Kshs 500 per month contributed weekly at an average of Kshs 120 (1.2 USD), or Kshs 20 per day. This is to ensure that those who make wages of Kshs 200 per day for six days a week are able to save 10% of their wages. Once a member has contributed for an agreed length of time, e.g. 4 months, she may ask for a loan. This must be approved by the entire group and the committee. The loan may be a long-term loan or a short-term loan. The group determines the rate of interest that must be paid and for the short term, payable three months, this is 10%.
Each person will have a passbook in which their contributions will be recorded each week. The collections are made each week to ensure that there is consistency in payment. The money will be held in a bank account in the name of the group. A committee of five has been elected to support the initiative's administrative affairs. Other details will be in the groups by-laws. The group will be supported to develop the by-laws by Livelihood Improvement Programme (LIP).  It is expected that in the first year, individuals will make small improvements in their livelihoods at family level. After the second year, the group will then be exposed to different ventures in investment. The period is to ensure the group gels and dynamics are dealt with. Specific group livelihood improvement initiatives will then be discussed and agreed on. Simple technologies that have been piloted elsewhere and that can make livelihoods better will be promoted.
The group has agreed on a common vision in Swahili – Najijenga Twajijenga, Kuboresha familia (approximate translation: Developing yourself; Developing us; Improving our families).