Reintegration of former child soldiers
Former child soldiers, women who went with fighting forces, and war affected youths, live in ghettos in Monrovia, Liberia and are suffering from PTSD (Post-Traumatic Stress Disorder), health problems and drug addiction. They  were abandoned by the international community after the Liberia civil war.
The Ghetto dwellers requested for a support programme outside Monrovia, why the programme partners (HR&S, IDEFOCS in Liberia and Action10 in Sweden) acquired 8,000 m2 of forest land in a rural village of Little Bassa in Liberia.
The Reintegration Center
HR&S invested a capital and Action10 in Sweden raised funds and together they could acquired 8,000 m2 of forest land in a rural village of Little Bassa in Liberia. Prior to procurement the HR&S CEO visited the village and met with the village leaders. IDEFOCS managed the procurement in relation both to the village and to the national authorities. Through hard labour work the land was transformed into productive land that now holds cassava.
The survey
IDEFOCS in Liberia, HR&S has in collaboration with  Action10 in Sweden made a survey of the ambitions of this population living in three of the ghettos in Monrovia; Turtle Ghetto, Du Pont Road Ghetto and Kink Grey Ghetto. The survey had 42 questions addressing personal background, recruitment by fighting forces, assessment about how the DDRR (Disarmament Demobilization Rehabilitation and Reintegration, an UN-led programme after the war) affected the person, current circumstances and current health status. The survey revealed the dreams and ambitions of each of the persons participating, to start a new life outside the ghettos, as well as the challenges faced which hinders them to change their lives without support from outside the ghetto.
A rehabilitation center with live-in accommodation has also been constructed. A six month rehabilitation plan will be offered together with health care (including removing bullets), drug treatment and PTSD counselling as requested by the ghetto survey participants. Our target partners will gain skills, knowledge and training in agriculture working on the farm helping them to establish daily routines, increase their self-esteem and their employment prospects.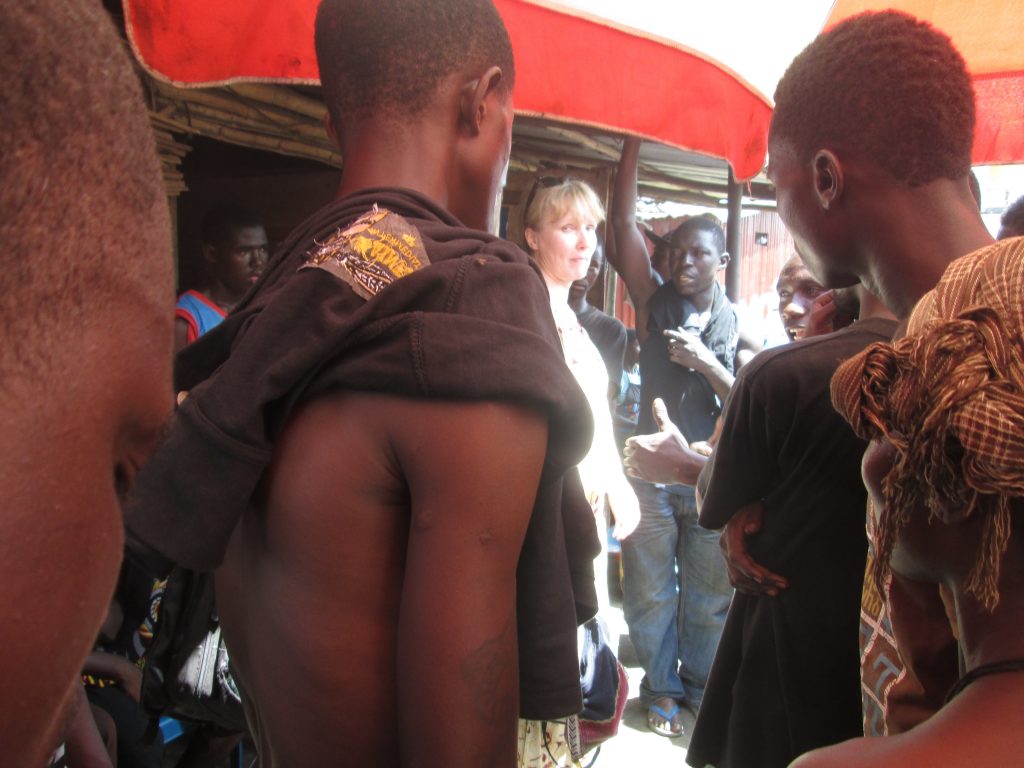 Going forward, we will provide resources and knowledge to those who want to start their own business, offer continued work on the farm for those who want to develop in agriculture as well as offer employment in small-scale businesses started by HR&S and IDEFOCS together. Just as important will be helping to reunite former child soldiers with their families, many of which were broken apart during the conflict, to assist the healing process in society. As soon as one Rehabilitation Centre member is self-sustained the support is offered to another person; women and men equally.
By analysing the challenges the Programme partners  (IDEFOCS, Action10, HR&S) were able to develop an output map, which laid a structure for which activities that were required to enable the ghetto dwellers to move on. The survey showed that the dreams and ambitions were; everyone in Liberia lives in an environment that enables them to have high quality life; drugs, violence and crime are not part of their lives; all Liberians lives in a home with their families; they have the training of profession they wish, and they can all read and write; they have employment or run their own business and earn enough to sustain their families; with the funds they earn they can have quality health care and university education if they wish; they are have social and physical security; and they are all part of the society as equal Liberians. The Ghetto dwellers requested for a support programme outside Monrovia.