Research management
The Research management tool builds on
- an adaption of ROPE to target the academic situation (ROPE-Sci) combined with
- a set of Outcome based training on a variety of aspects important for scientific research as well as
- coaching on how to install and manage a scientific laboratory
- cross-cultural understanding in scientific teams and
- implementation of scientific findings through our Innovation Centres.
Research management through ROPE  (ROPE-Sci)
The HR&S Real-time Outcome Planning and Evaluation (ROPE) is a programme / social enterprising  design and evaluation planning tool that ensures equal partnership, measures progress and compiles lesson learned. ROPE provides a strategy for designing programmes based on the needs and the knowledge of the partners, identification of the means required in order to overcome challenges, development of a sustainable economy plan, and establishing the necessary institutional capacity. The ROPE addresses a logical relationship between the inputs, activities, outputs, outcomes and impact of a program. The purpose is (as with any logical model)  to assess the causal relationships between the elements of the program; if the resources are available for a program, then the activities can be implemented, if the activities are implemented successfully then outputs are provided, certain outcomes can then be expected short term and impact can be expected long-term.
Outcome based scientific capacity strengthening workshops (OBSci)
HR&S offers an outcome based research management programme addressing eight areas of significant importance for researchers:
ONE       The scientific method and research funding.
TWO      Research methods and tools.
THREE   Publishing scientific results and scientific communication.
FOUR    Scientific supervision and leadership.
FIVE       Implementation of scientific results.
SIX          Entrepreneurship for researchers.
SEVEN   Advanced scientific equipment operational and financial planning (FAST).
EIGHT    Cross-cultural partnership for researchers (CUPRes).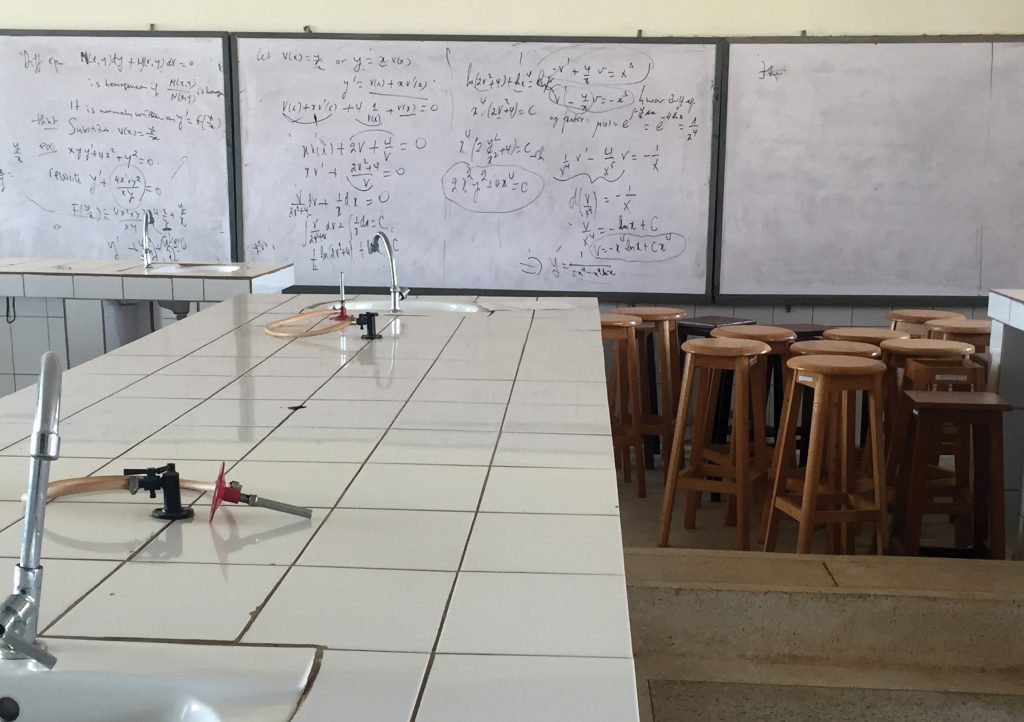 The OutSciCap programme operates and measures progress towards goals identified by the researchers themselves. All programmes requires significant input from the researchers and commitment by the scientific institution management. A sequence of different activities is offered until the goal is reached, such as trainings, workshops, individual coaching, round table discussions, internet searches, access to scientific literature, visits to laboratories, procurement and management of advanced scientific equipment, networking, scientific conferences, international knowledge sharing platforms, and links to research grant givers. The programme addresses research topics that have been chosen by the researchers themselves, both internationally prioritised topics but also neglected research areas that may be more relevant for non-OECD countries.
Functioning advanced scientific equipment (FAST)
HR&S offers coaching and coordination on equipment management with the aim to provide access to functioning advanced scientific equipment (FAST). The FAST programme addresses the selection, procurement, transportation, installation, quality assurance, service, maintenance and decommissioning of advanced scientific equipment. A training program on equipment use, applications and maintenance is offered together with the establishment of a network of trainers and service staff. FAST also offers tools for equipment management and for the development of a sustainable economy, arranges stakeholder meetings and technician forums as well as identifies reliable suppliers.
Cross-cultural understanding in research teams (CUP- Sci)
HR&S offers workshops which offers tools and understanding for cross-cultural partnership.
The HR&S also offers coaching through practical tools that will guide cross-cultural communication and partnership in actual practice.  The HR&S coaching provides a reflection over each partner's expectations and each partner's core values. The terminology 'equal partnership' is defined for each collaboration programme. HR&S support with clarifying carefully the input offered and expected by all partners, the sharing of tasks and responsibilities, and the sharing of benefits. The programme coaches through the different stages in a partnership, including start-up team-building exercises and the joint designing of activity plans and progress markers. HR&S coaches in the development of agreements and legal support.
In addition, HR&S offers cross cultural understanding visits to all our Programme countries.
Innovation Centres (InnoC)
HR&S establishes Innovation Centres (InnoC) in non-OECD countries, where innovators, researchers and social entrepreneurs are welcome to become members. Within the Innovation Centre the atmosphere ensures work efficiency, effectiveness, transparency and credibility. The InnoC offers shared co-working space with firm internet connection, reliable electricity, and back-office services. Business related training and coaching is available as well as investment capital. The members are offered team-building events and as well as links to the international HR&S network.