Action principles - Ten Actions (TAct)
The Ten Actions (TAct) is a value platform and institutional framework. TAct builds operationally on ten action;  i)  needs driven activities; ii)  equal partnership; iii)  real-time outcome planning evaluation; iv) strategic partnership; v) institutional capacity; vi) sustainable economy; vii) quality values; viii) resilience; ix) knowledge sharing; x) visibility.
The implementation of TAct addresses necessary components of successful interventions, such as trust; harmony; equity; open and frequent knowledge sharing, long-term planning, consequence analysis, maintenance of items and structures, firm governance and staff empowerment. TAct provides an institutional framework for cross-cultural equal partnership collaboration.
TAct frames all HR&S programmes.  The tool is also offered as a tool for Programme, Strategic and Target Partners and HR&S provides coaching and workshops. Such coaching and workshops are thoroughly adapted to the realities on the ground.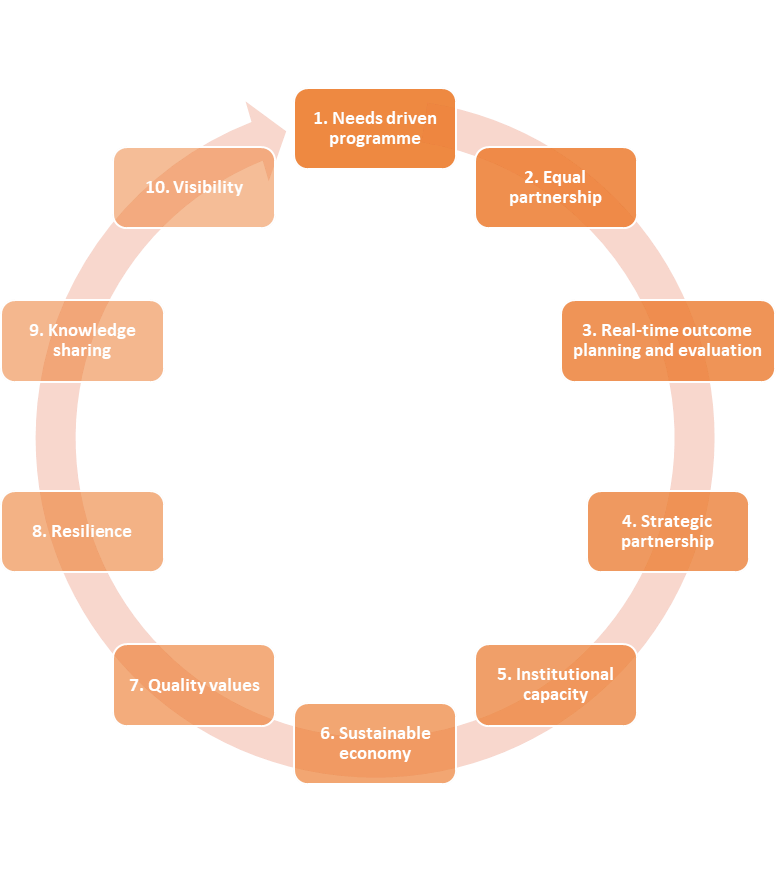 1. Needs driven programme
According to HR&S, a needs driven programme is defined by the person or persons who will implement the activities in actual practice and more importantly, who will make the programme sustainable long-term. Thus, a needs driven programme builds on the ambitions of the implementer.
2. Equal partnership
Equal partnership is here defined as a work relation where the partners share inputs, responsibilities and benefits equally. Such partnership is achieved by sharing evenly the work assignments related to the design, implementation, evaluation and reporting, by building trust and by mutually sharing of skills, knowledge and support.
3. Real-time outcome planning and evaluation (ROPE)
HR&S has developed a tool for the Real-time Outcome Planning and Evaluation called ROPE. The tool offers a procedure for asking questions and developing activity plans that capture the Target partner's ambitions, challenges, demands, expectations, core values, experiences, skills.
The evaluation planning is made real-time. Real time is here defined as capturing lessons learned as soon as they have been generated, then immediately adjust, and thus improve the programme design.  ROPE measures outcome and outcome is here defined as the actions done by someone as a result of programme output.
4. Strategic partnership (SP)
Strategic partnership concerns staying informed about the programmes and activities of institutions with related mandates as well as sharing knowledge with the same.
Strategic partnership is developed with all sectors concerned including; academia, private sector, public sector, governments, ministries, local authorities, communities, CSOs, NGOs, media, national and international aid and development organisations, investors, philanthropies and  charity organisations.
5. Institutional capacity
The institutional capacity concerns all aspects of an institution's ability to handle their mandate. Institutional capacity captures such as; governance, management and operations; policies and strategies; staff number, competences and motivation; finances and finance administration and accounting; administration; and physical infrastructure.
6. Sustainable economy
Each of the HR&S programmes must have a sustainable economy. A programme may require a start-up grant or investment capital to get started, but shall never depend on external funding to be sustainable.
7. Quality values
The TAct quality values include truth, trust, equity and harmony.
8. Resilience
Resilience it is here interpreted as having the  capacity to remain active, even when challenges threatens the programme and/or the partnership. A weakness in an activity or a behaviour that threatens the programme, is managed by the partners who fill the gap, provide support, and show pertinence, respect, capacity, care and love.
9. Knowledge sharing
The here used definition for knowledge sharing is mutual, timely and honest sharing of knowledge for the benefit of all partners,
as well as for the general public.
10. Visibility
Worldwide programmes require a network of actors, why visibility is core. At the same time, visibility is demanding, as lots of information is competing for people's attention. It is also challenging to share the correct information, so that the people reached, understand the organisation's core-values and its mandate.