A24. Small businesses and Art in urban vulnerable settlements in Uganda

 – supporting single mothers and adolescent girls living in the slum.
We run this programme together with Ubuntu Art House and Creative Arts 256 in Uganda.
The context
This programme takes place within Kamwokya and Kyebando. Kamwokya and Kyebando are slum areas within Kampala the capita of Uganda and are faced by many challenges. Kamwokya and Kyebando are densely populated and have an estimated population of 40.000 people. The majority of its inhabitants are children and youth and most of the families in these areas are poor and illiterate.
Most men in slums have dropped their responsibilities to look after their families, because of the tough economic situation, lack of employment, and rural urban migration. We face family drop out, domestic violence, early sex marriage and polygamy which leads to single mothers. Many children do not get a chance to go to school. And for those that are lucky to go to school many drop out. Although these issues make life challenging and affect all, it is worse with the adolescent girls as so many of them resort to prostitution, which in addition leads to unwanted pregnancies, acquisition of HIV/AIDS and eventually death.
Running a business
The challenges associated with running business in our area is the high cost of materials and high cost of renting an office or a venue.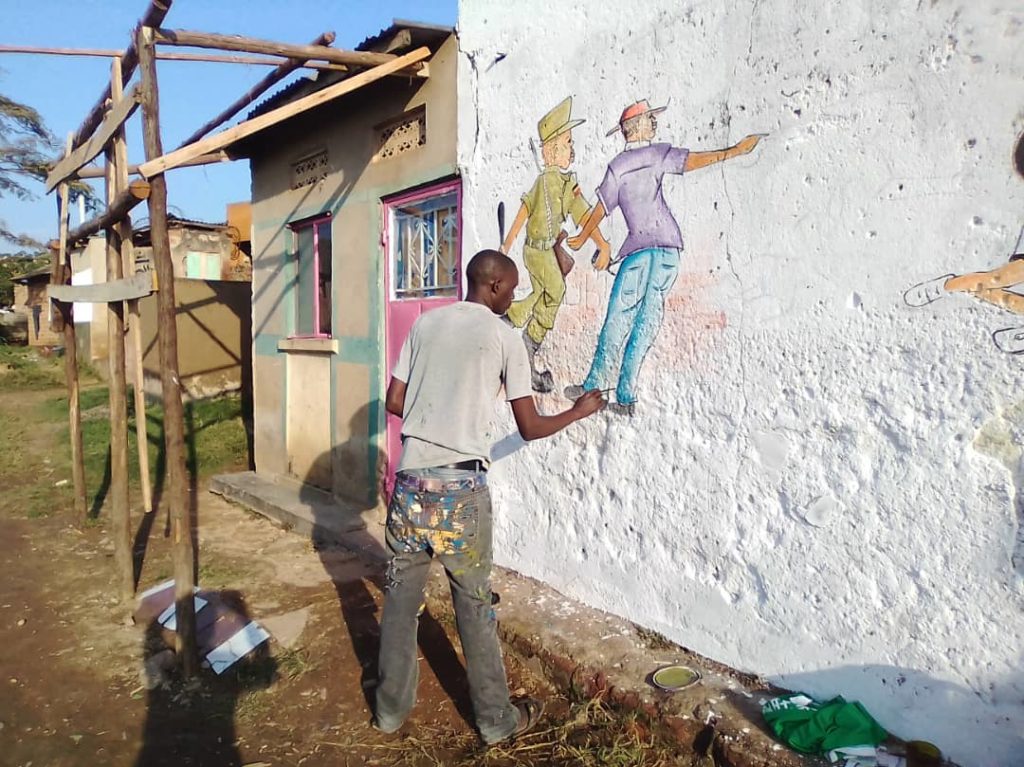 Activities, outputs and expected outcome
Outreach activities to single mothers and adolescent girls and formation of groups.
This programme targets those who already have a skill and business experience, single mothers and adolescent girls.
1. Groups comprising single mothers and adolescent girls aged 16-35 years have been established and have attended workshops. Group leaders have been trained.
2. Group members meet on a monthly basis to receive peer-to-peer education through interactive discussions. The trained leaders attend their meetings to backstop them and generate project reports with recommendation that will inform future actions.
3. We are organizing financial literacy workshops, seminars, open discussions, talk shows, training of trainers, research on issues that affect the single mothers and adolescent girls, counselling and guidance.
We address: financial knowledge,  saving culture, small business management, advocate for Child-to-Parent communication within families to avoid early pregnancies and school dropout, equip the young girls with credible information and tools that will help them lead successful lives,
4. We offer links to HIV prevention, treatment and care service providers.
25 May 2020, meeting notes compiled by Moses MURUNGI.
COVID-19 adds challenges to our partners.
The members of our team in Uganda had a consensus that COVID-19 caught everyone un-aware and as a result crippled most of the businesses in the program.
Businesses/enterprises are stuck due to reduced numbers of customers and working hours. As a result, a number of members have not been able to pay back what is owed.
The members have agreed that some businesses will not be able to operate as profitably as they have been before. As a result, members have suggested that it is wise to think of shifting business lines/types to be able to be competitive and keep the programme running. However the challenge to this is that starting a new business without any experience in that business is in itself worrying. Group leaders will visit individual members to assess their opinions on the new business idea. In the same vain, the group leaders will visit members before 2nd June 2020 for the way forward.
The members also suggested that it's the responsibility of the group leaders to meet the members to find out the individual challenges and find solutions to the challenges.
The meeting agreed that members should start planning now about the kind of businesses and ventures that would be profitable for them in this new COVID-19 era. People should not wait.
Members suggested that the period for payment should be adjusted to more than one month. However, others suggested that its better and easier to pay in small instalments in shorter periods. There was nothing conclusive on this.
The suggestion of introducing new members in the program was rejected. It was agreed that it is better to first stablize the current program before we can invite a new cohort.
Members also agreed that the program can open up a mobile money account to ease the collection of monies from members. Members can deposit the money they get anytime without having to wait for demands. Members also agreed that the running costs should be beared by the program not the members.