A25. Tailoring production in vulnerable settlements in urban Kenya
Our ambition is to build on what our partners, Dolas Creation, is already doing, and support with scaling-up.
Initiate and maintain tailoring production within Kibera.
Employ Kibera citizens.
Sell products within Kibera.
Sell products outside Kibera within Nairobi.
Sell products in Sweden through HR&S.
Our partner
Dolas Creation.
Manager and Founder: Mr. Frederick ATING'A.
Cecilia and Frederick have met in Nairobi two times.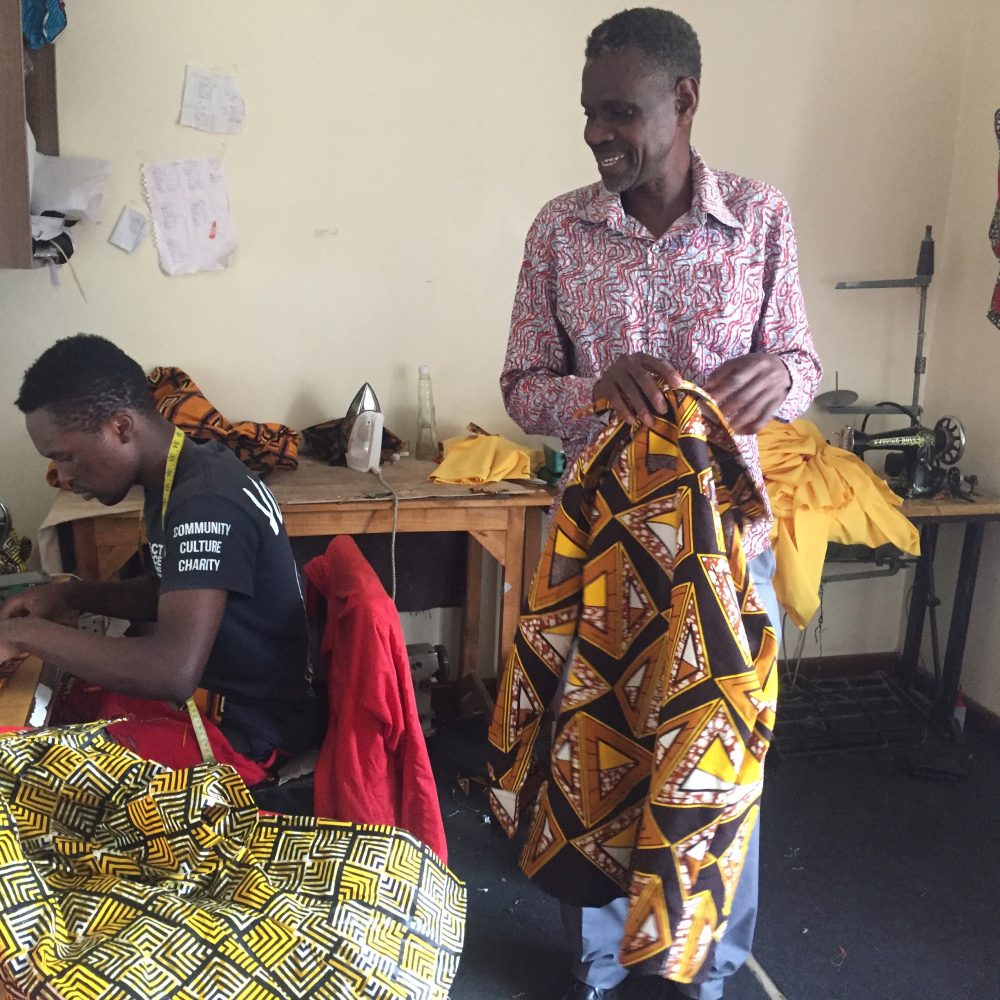 Mr. Fredrick Ating'a (standing) and his personal assistant Mr. Sammy.
Cecilia and Frederick met in Nairobi two times.
They compared the mission of their social enterprises and saw an over-lap that can be developed into a win-win equal partnership. They agreed to collaborate.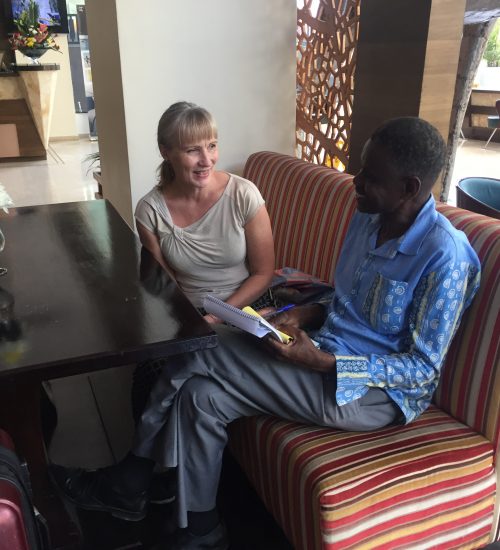 Mr. Fredrick Ating'a, Doals, Creation CEO and
Cecilia ÖMAN, HR&S CEO
By Milicent SIFUNA, July 2020
Creating a community to empower –
About our supported social entrepreneur  Mr. Fredrick Ating'a.
Born in Bondo, the Western part of Kenya, Mr. Fredrick Ating'a has always had a great interest in the fashion industry from a very young age. When he was a little boy, he used to admire his grandfather who loved dressing African clothes.  After completing his college studies, he worked in various institutions which he realized was not his calling. He noted that people have their own selfish interests.  He later resigned to follow his passion, designing and developing different types of clothing. His business is in Kibera, the largest slum in Africa, a division of Nairobi, Kenya.  Poverty and unemployment rates are high in this area. Fredrick hopes to transform and empower people in the area by providing jobs and training to other local craftsmen and artisans.
However, insufficient funds to enable him to expand his business, improving the quality of the services and marketing strategies has been a challenge. "I would love to see a transformed society with independent people, people who believe they can do or be whatever they want to be", he says. He strongly believes that through being a member of the Human Rights & Science (HR&S) RISE Support Centre, he will be able to learn valuable business and financial skills that will help him take his business to the next level.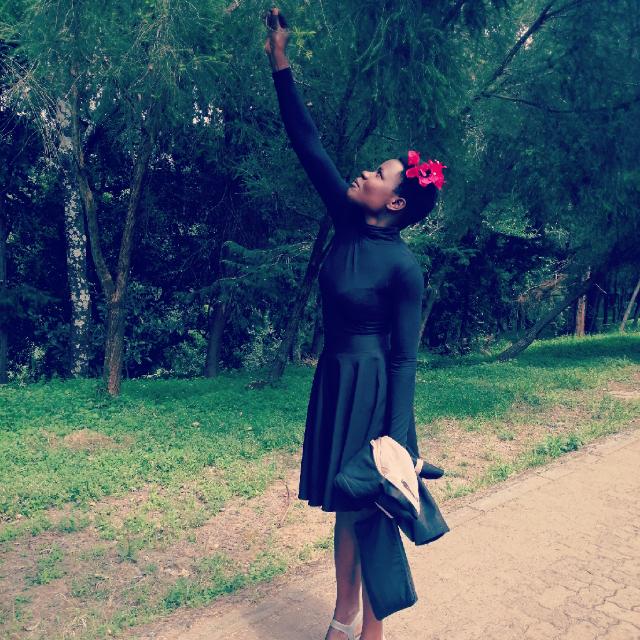 Ms. Millicent SIFUNA, HR&S RISE Support Centre Evaluation planning coach.
HR&S aims to provide the opportunities to researchers, innovators, and social entrepreneurs in Sub-Saharan Africa that are required for them to implement positive change and development.  HR&S is honored to partner with Mr. Fredrick Ating'a and to offer to him an ActionInvest opportunity.  ActionInvest provides soft loans and coaching and is managed by Action10. Action10 is a volunteer organisation operating under the umbrella of HR&S. To find out more about HR&S, Action10 and ActionInvest please visit our website, www.humanrightsandscience.se
By Milicent SIFUNA, July 2020
Creating A community To Empower –
Dolas creation-What about it?
The love for African fashion and passion to inspire, educate, and empower local artisans and craftsmen drove Frederick Ating'a to come up with Dolas creation. The whole concept behind Dolas creation was thus to bring together gifted local artisans and craftsmen to showcase all local African fashion under one roof. 'I hope this will invigorate employment and hearten acknowledgment of African crafts both locally and internationally.' He says.
Dolas creation is located in Kibera slum (a division of Nairobi area Kenya) where poverty and unemployment rates are still very high. It is unarguable that the rapid spread of coronavirus across the globe has escalated problems in such communities; who live below the poverty line and depend on the informal sector for a source of income. Keeping in mind that lower-income countries hardly develop policies that provide economic protection for people who are marginalized, such individuals are left vulnerable.
Dolas creation hopes to make local brands that get their place both in local and International space with the following as the main commodities:
African print clothes.
Ankara shoes (customized).
African print bags and purses.
African jewelry (customized).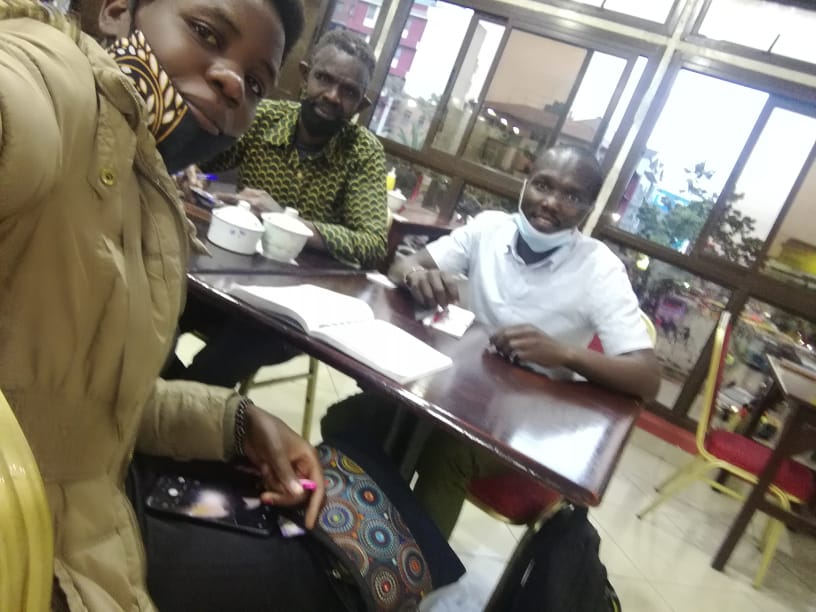 From left to right; EP coach Millicent SIFUNA meets with Dolas Director Frederick  ATING'A together with PR Coach Collins OWUOR.
However, because of the biting corona pandemic, Dolas will retail its products online and offer delivery throughout Africa and the World. It hopes to offer quality services and products that are unique and customer friendly. Dolas envisions to be the nation's most inclusive organization representing marginalized skilled artisans and craftsmen that share a common interest to improve living standards, expand opportunities and empower communities while providing the best practices and services in the fashion industry.  Dolas creation hopes to actualize its dreams by being a member of HR&S RISE Support Centre. This initiative benefits from the ActionInvest programme managed by Action10. Action10 aims to reduce poverty through equal partnership and a sustainable economy,  www.action10.org .
Kibera (Kinubi: Forest or Jungle) is a division of Nairobi Area, Kenya, and neighbourhood of the city of Nairobi, 6.6 kilometres from the city centre. Kibera is the largest slum in Nairobi, the largest urban slum in Africa and the third largest in the world. The Kenya Population and Housing Census has estimated Kibera's population to be one or two million people. Most of Kibera slum residents live in extreme poverty, earning less than $1.00 per day. Unemployment rates are high. Persons living with HIV in the slum are many, as are AIDS cases. Cases of assault and rape are common. There are few schools, and most people cannot afford education for their children. Clean water is scarce. Diseases caused by poor hygiene are prevalent. A great majority living in the slum lack access to basic services, including electricity, running water, and medical care.The neighbourhood is divided into a number of villages, including Kianda, Soweto East, Gatwekera, Kisumu Ndogo, Lindi, Laini Saba, Siranga, Makina and Mashimoni.
History – Colonial era. The city of Nairobi, where Kibera is located, was founded in 1899 when the Uganda Railway line was built, thereby creating a need for its headquarters and British colonial offices. The colonial administration intended to keep Nairobi as a home for Europeans and temporary migrant workers from Africa and Asia. The migrant workers were brought into Nairobi on short-term contracts, as indentured labour, to work in the service sector, as railway manual labour and to fill lower-level administrative posts in the colonial government. Between 1900 and 1940, the colonial government passed a number of laws – such as the 1922 Vagrancy Act – to segregate people, evict, arrest, expel and limit the movement of the natives and indentured workers. Within Nairobi, Africans could live in segregated "native reserves" at the edge of the city. Permits to live in Nairobi were necessary, and these permits separated living areas of non-Europeans by ethnic group. One such group were African soldiers who served the military interests of the British colonial army, and their assigned area developed into a slum, now known as Kibera.
Kibera originated as a settlement in the forests at the outskirts of Nairobi, when Nubian soldiers returning from service with the King's African Rifles (KAR) were allocated plots of land there in return for their efforts in 1904. Kibera was situated on the KAR military exercise grounds in close proximity to the KAR headquarters along Thika Road. The British colonial government allowed the settlement to grow informally. The Nubians had no claim on land in "Native Reserves" and over time, other tribes moved into the area to rent land from the Nubian landlords. With the increase in railway traffic, Nairobi's economy developed, and an increasing number of rural migrants moved to urban Nairobi in search of wage labour. Kibera and other slums developed throughout Nairobi. Kibera slum was established in early 20th century, and has grown ever since on public lands, around water streams and railway tracks. Its current residents are people from all major ethnic groups of Kenya. Proposals were made in the late 1920s to demolish and relocate Kibera, as it was within the zone of European residential holdings; however, the residents objected to these proposals. The colonial government considered proposals to reorganize Kibera, and the Kenya Land Commission heard a number of cases which referred to the "Kibera problem". By then, Kibera was not the only slum. A 1931 Colonial Report noted the segregated nature of housing in Nairobi and other Kenyan towns, with housing for Europeans reported as good, and widespread prevalence of slum property for Africans and other non-European migrants.
History – Post-independence After Kenya became independent in 1963, a number of forms of housing were made illegal by the government. The new ruling affected Kibera on the basis of land tenure, rendering it an unauthorized settlement. Despite this, people continued to live there, and by the early 1970s landlords were renting out their properties in Kibera to significantly greater numbers of tenants than were permitted by law. The tenants, who are highly impoverished, cannot afford to rent legal housing, finding the rates offered in Kibera to be comparatively affordable. The number of residents in Kibera has increased accordingly despite its unauthorized nature. By 1974, members of the Kikuyu tribe predominated the population of Kibera, and had gained control over administrative positions, which were kept through political patronage. A shift in Kenyan demographics has taken place since then, with the Luo and Luhya tribes from the West of Kenya being the primary sources of internal emigration. By 1995 Kibera had become a predominantly Luo slum and Mathare Valley nearby the predominantly Kikuyu slum area. The coincident rise of multi-party politics in Kenya has caused the Luo leader and MP for much of Kibera, the parliamentary seat of Langata, Raila Odinga to be known for his ability to bring out a formidable demonstration force instantly. Meanwhile, Mathare Valley has become a hotbed of gang warfare. Political tensions in the nation between the ethnic tribes escalated after the re-election of President Kibaki in 2007.
Kibera today The Nubian community has a Council of Elders who are also the Trustees of its Trust. This Trust now claims all of Kibera. It claims that the extent of their land is over 1,100 acres (4.5 km2). It claims that owing to State sanctioned allotments the land area is now reduced to 780 acres (3.2 km2). The Government does not accept their claims but its rehousing programme envisions a land extent around 300 acres (1.2 km2) for the claimed Nubian settlement. Neither side has left any room for negotiation from this position. Presently, Kibera's residents represent all the major Kenyan ethnic backgrounds, with some areas being specifically dominated by peoples of one ethno-linguistic group. Many new residents come from rural areas with chronic underdevelopment and overpopulation issues. The multi-ethnic nature of Kibera's populism combined with the tribalism that pervades Kenyan politics has led to Kibera hosting a number of small ethnic conflicts throughout its century-long history. The Kenyan government owns all the land upon which Kibera stands, though it continues to not officially acknowledge the settlement; no basic services, schools, clinics, running water or lavatories are publicly provided, and the services that do exist are privately owned.
Slum upgrading Kibera is one of the most studied slums in Africa, not only because it sits in the centre of the modern city, but also because UN-HABITAT, the United Nations' agency for human settlements, is headquartered close by. Ban Ki-moon visited the settlement within a month of his selection as UN secretary-general. The government, UN-HABITAT and a contingent of NGOs, notably Maji na Ufanisi, are making inroads into the settlements in an attempt to facelift the housing and sanitary conditions. There are three significant complicating factors to construction or upgrade within Kibera. The first is the rate of petty and serious crime. Building materials cannot be left unattended for long at any time because there is a very high chance of them being stolen. The second is the lack of building foundations. The ground in much of Kibera is literally composed of refuse and rubbish. The third complicating factor is the unyielding topography and cramped sprawl of the area. Few houses have vehicle access, and many are at the bottoms of steep inclines (which heightens the flooding risk). On 16 September 2009 the Kenyan government began a long-term movement scheme. The clearance of Kibera was expected to take between two and five years to complete. The project has been delayed for a number of reasons.
The estimated budget of September 2020 in Kenya Shilling.
African print fabrics 30,000.
Plain fabrics 20,000.
Dumys, used to display clothes 20,000.
Leather material 10,000.
Accessories from bone work 15,000.
Misslenious 5,000
TOTAL 100,000