Seminars, Workshops & webinars
Dates
Annual events
Five days during the last week of the month,
1 – 3 pm Coordinated Universal Time (UTC)

January: Research management.
February: Laboratory management.
March: Social enterprising.
April: Global development – evaluation planning.
August: Research management.
September: Laboratory management.
October: Social enterprising.
November: Global development – evaluation planning.
Price
EUR
10 / 50 per private participant, from SSA / outside SSA
50 / 100 per employee paid for by the institution, from SSA / outside SSA.
Webinar level ONE, TWO & THREE
Each webinar topic has three levels, and each level has a certificate lined to it. The first level targets the HR&S Strategy for Change; ambition, outcome challenges and activities, the second; progress markers, strategic partners, and customer surveys, and the third level webinar targets surveys and evidence based assessment.
Each webinar welcomes participants for each level. Level two can only be taken if the participant has a level ONE certificate, and level three if the particpnat has a level two certificate.
About
HR&S offers to be a solid platform for bringing stakeholders together in fruitful discussions. HR&S bridges knowledge sharing gaps and communication challenges. One such platform is our workshops series.
Introduction
Human Rights & Science (HR&S) recognises researchers, innovators, and entrepreneurs in lower-income countries who present amazing social business ideas and supports them. Our main aim is to implement locally developed and locally adapted solutions. HR&S offers a transformational training package designed to inspire development stakeholders to become innovative change-makers. HR&S trainings are stuctured around evaluation planning. Evaluation planning describes how we monitor and evaluate the way we address our activites, as well as how we intend to use evaluation results for activity improvement and decision making.  HR&S benefits from our own "Real-time Outcome Planning & Evaluation" tool (ROPE) and the training sessions are structured around the ROPE Strategy for Change template. It is obvious from the above that ROPE is an iterative process and that the Strategy for Change is continiously revised, as a result of lessons learned.  HR&S trainings are instructor led and delivered by using a blended learning approach. It combines presentations, guided sessions of practical exercise, group work and home work. Our facilitators are seasoned experts with years of experience, working as professionals and trainers in these fields.
HR&S offers training on
Scientific research management.
Laboratory management.
Social enterprising.
Global development – evaluation planning.
Targeted region
Targeting Sub-Saharan Africa.
Targeted audience
Research & laboratory management: The research and laboratory management targets academic institutions in Sub-Saharan Africa, suppliers of scientific equipment and development institutions addressing scientific research.
Social enterprising: The targeted participants are Scientific researchers with research findings to be implemented,  established social entrepreneurs with innovative ideas, and development institutions addressing the private sector.
Global development – evaluation planning: The development programme management targets development institutions, both international and local. Local NGOs may be interested in knwing about the HR&S evauation planning method.
Size of the audience
The number of participants in a webinar is restricted so that each and every participant is seen and HR&S can deliver quality output to all participants.
The aim is to keep track of each participant, to ensure that everyone receives the training they deserve and expect.
Expected outcome
Research management
Increased number of:
Research grant applications submitted and approved for funding.
Manuscripts submitted and approved for publication.
Implemented research findings.
Income to the researchers and the university through consultancy.
Laboratory management
Increased number of:
Functioning advanced scientific equipment.
Income to the university through laboratory work.
Social entreprising
Increased number of:
Profital businesses providing social good.
Global development – evaluation planning:
Increased number of:
Development programmes that become operational and finacially sustainable.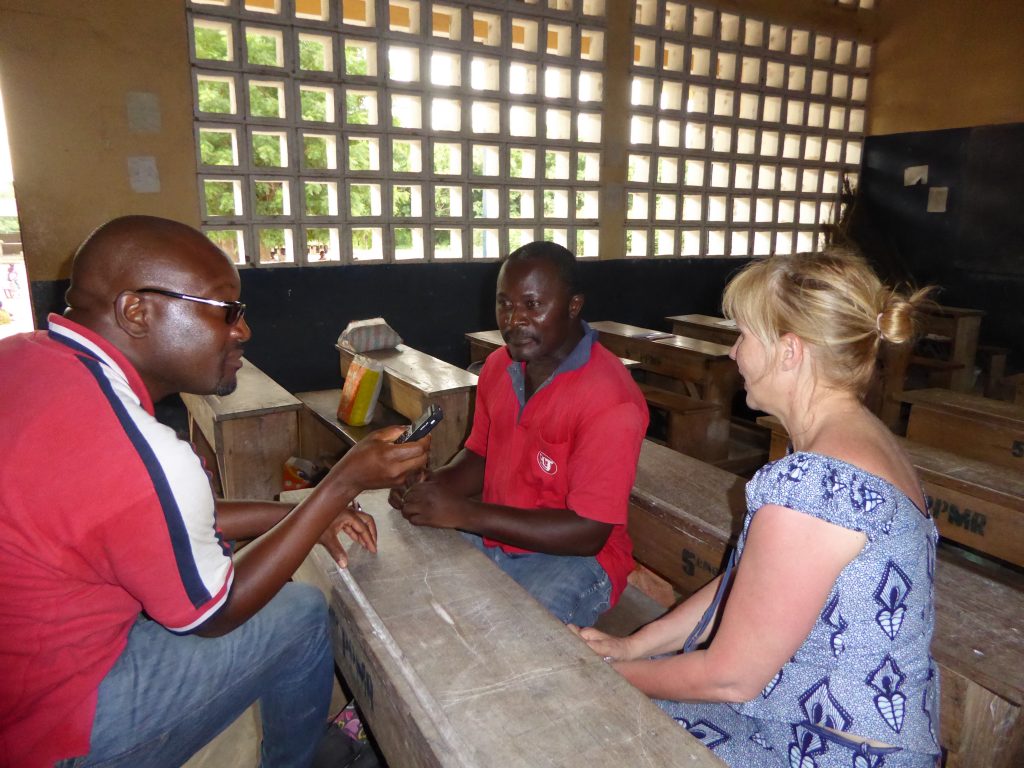 Language
The training events are given in the English language.
Participants are welcome to comment and ask questions in French.
Number of participants
Maximum 40.
Training topics
All trainings
International collaboration for development.
Cross-cultural understanding.
Project management.
Evaluation planning.
Time management.
Motivation.
Research management
Add on training opportunity: The scientific method.
Laboratory management.
Social business management.
The training addresses the different aspects of running a social enterprise including accountability management. One component of the offer is investment capital that is combined with local coaching and auditing. The investment capital has to be paid back with 10% interest, as well as a fee of 10 % for the local coaching. A potential loan-taker has to have been rewarded with a HR&S training & exam certificate.
Development programmes
International collaboration for development.
Workshop Output
During the workshop we develop a strategy for change for each participant and/or for the targeted institution, with the purpose of facilitation the transition to the next level. Thereafter and at any time, is HR&S available to follow-up with more workshops, to strengthen the SfC, and also to give training on topics that arises within the SfC.
Sustainable economy
It is important to point out that HR&S is not an aid institution, and the founder does not believe in the aid industry. She claims the aid industry is i) not transparent enough and that it is also ii) too volatile to provide the stable foundation required for creating a firm infrastructure.
HR&S offers to be a platform for connecting stakeholders and the workshop series is one such tool. Thus, the participants are welcome to bring potential workshop customers on-board, these are institutions that would benefit from the workshop and its infrastructure enough to be willing to pay EUR 5,000 for a tailor-made event.
Format
HR&S offers training in the form of webinars/workshops. 
Workshop Programme
1. One hour introduction with HR&S Country RISE Centre.
¤The Strategy for Change (SfC) template is distributed.
2. Nine hour on-line training with HR&S Sweden – during three days.
¤The SfC is addressed in general, while each participant develops their own individual SfC. Participants are encouraged to ask questions and discuss their own situations.
3. One and a half  hour presentation session with HR&S Country RISE Centre targeting 10 participants. Each participant presents her/his own SfC for five minutes, all  comments and questions are collected for a discussion session.
-Workshop evaluation.
-Distribution of Certificates.
Workshop content Narrative
Scientific research, innovation and enterprising,
are key to development in any country. Although researchers, innovators, and entrepreneurs in "lower-income countries" present amazing ideas, their solutions are often unrecognized and unsupported. Consequently, locally developed and locally adapted solutions are not implemented. The purpose of these workshops is thus the transformation from aid dependency to autonomous research, innovation, and social enterprising for development that benefits from the international equal partnership. When addressing change, it must be clear which components of a transformation programme are important for achieving an expected outcome and an expected impact. If we target change then we need a strategy addressing; i) why the status quo would change and ii) who would bring the desired evolution.
The HR&S tool Strategy for Change (SfC) is essentially a comprehensive description and illustration of how, why, and by who the desired change is expected to happen in a particular context. The Strategy for Change offers an opportunity to reflect whether the expected impact is likely to happen because of the programme and it ensures that the programme design does not suffer from obvious gaps. Thus, the SfC aims at defining all of the necessary conditions required to bring about impact, and it also points out which conditions that are sufficient.
The Strategy for Change describes the connections between Impact, Outcome, Output, Milestones, and Input, together with, Outcome challenges, Progress markers, Activities, the Strength of Evidence and Baseline, as well as Stakeholder analysis, Personal benefits, Motivation, and Power of influence; all parameters compiled per Ambition. Progress is measured through the measurable entities Output, Outcome, and Impact Equally important are Lessons Learned and Informed Decisions. It can be noted that the SfC is a narrative of the more ambitious HR&S tool, the "Real-time Outcome Planning & Evaluation" (ROPE). 
Background & Justification: Include also the national development plans when appropriate.
Context: The answer to the questions – How do you manage right now?
Ambition: The need and ambitions as expressed by the local stakeholder, the Target Partner. The answer to the questions – What do you want to do? How do you want to do it?
Outcome Challenge: Challenges hindering the Target partner from reaching her/his ambitions, as expressed by the Target partner. The answer to the questions – Why did you not reach your ambition already?  Did you experience challenges that were hindering you from starting? If so, which challenges?
Activity: Activities addressing the Outcome challenges aiming to generate an Expected Output. The Activities are arranged by the Programme Management Partners (PP).
Output: The Outputs are quantified results from the Activities. The PP are in control over Outputs. It can be, for example, the number of active participants in a certain number of workshops that lasted a certain period of time.
Milestones: Milestones are outputs presented with due dates and the person(s) responsible for the implementation. Milestones may also present the financial input required.
Stakeholder analysis: Do we have the important stakeholders in our team, who i) will benefit personally, ii) has internal motivation and iii) enough power of influence? Moreover, are all the entities required to reach impact represented in our team, for example, technicians, equipment suppliers, chief of the village and/or head of the family.
Motivation: Motivation is a phenomenon that explains the processes giving rise to individual energy and endurance. It can be external (e.g. money, career, power, aid) or internal (passion, vision, commitment), and strengthened through teams. The answer to the questions: Is your motivation external or internal?
Input: Resources required to arrange the Activities, can be for example funds, training, knowledge, skills, expert advice, coordination, communication and infrastructure. Inputs have to be available; otherwise, they are reformulated into activities.

Customer survey: The customers are identified as entities providing the resources. The survey is addressing our customers' needs and challenges and proposes how the PP can solve he customers challenges. The answer to the questions: What are our potential customers' problems, frustrations and goals?
Outcome: Actions taken by different stakeholders as a result of the Activities. The PPs are not in control over Outcomes.
Progress markers: Measurable indicators of progress. They are linked to the Outcomes and are categorised as Level 1, 2 and 3.
Baseline: The baseline describes the situation before starting the programme and constitutes the control against which the programme achievements will be evaluated. A baseline is required at a micro and macro level.
Impact: HR&S defines Impact as Outcomes that have become sustainable over time, and does not require backup from the programme to be sustainable. The expected impact is quantitatively measurable as a result of our progress markers, and we are accountable for the Expected Impact. The Expected impact is measured at the time of closing the programme. In addition, we may aim to measure if our impact is still sustainable some period after we have closed the programme, maybe one, two, five and even ten years after.
Possible Impact: The possible Impact is often a wide and qualitative statement, something that is desired and that may or may not happen as a consequence of our interaction, and often long after we have closed the programme.  We are not accountable for the possible impact, and we can also not claim it as the goal that we strategically work towards achieving. If it actually happens, then we often do not have evidence to what extent it was caused by our programme.
Testing the strength of evidence: Through scientific surveys are the strength of the evidence for claimed outcome and impact tested.
Lessons learned: How and what do we learn from our mistakes or things happening outside of our control.
Informed decisions: How do we adjust the SfC are a result of lessons learned.
Vision: On a larger and wider scale, why is this initiative relevant? We are not accountable for our vision.
Mission: We are accountable for our mission.
How can you connect with us?
Place orders
Customers are welcome to  contact us through our Contact page.

NEW trainings being planned for