We offer

our unique management strategy
Our management strategy ROPE (Real-time Outcome Planning & Evaluation) has been developed to handle the circumstances in lower income countries and is specifically targetting the sub-Sahara African region. Versions of ROPE have been tailor-made to address the five specific areas mentioned below.  We offer training and we offer coaching.
1. Scientific capacity strengthening
2. Advanced laboratory management
3. Innovation & Business growth
4. Serving the under-served
5. Equal partnerships for development
We look forward to a long, deep, and ambitious collaboration with all our partners where we aim to address their needs, make them content and deliver above expectations. We have a unique understanding about the services that we offer, about the challenges experienced by our partners, and about how to implement our support system in actual practice. We have seen programmes that we support excel.
Across all, we seek innovation. We target a change of paradigm, where aid dependency is replaced by international equal partnership for sustainable international development and where extreme poverty is eradicated. We seek to empower partners to be independent stakeholders with professional operations and sustainable economies.
We offer four types of services. First, we have developed management strategies that we offer to our four sets of stakeholders; scientific researchers, laboratory staff, entrepreneurs, under-served communities and international developers. The management strategies combines our formal expertise with our understanding about the realities on the ground, targeting a change to firm procedures that captures the goals identified by our partners, as well as measuring evidence based impact or no impact. Secondly, we offer tailor-made support to social entrepreneurs where we provide business loans, training, coaching, expert advise, infrastructure and networking. Thirdly, we measure the impact that our social enterprises have on the local community to ensure that we serve the under-served in a manner that is profitable and sustainable for them. Fourthly, we coordinate among development actors in Sub-Sahara African countries (SSA); the local authorities, the development institutions, private sector with CSR programmes, suppliers from Europe, and donors.
Human Rights & Science (HR&S) aims to provide local change-makers in Sub-Sahara African countries with the opportunities that enable them to implement their ideas and thus creating positive change.
We have 15 years of experience working closely together with local stakeholders in Sub-Sahara African countries.
We acknowledge the challenges, address them and do not judge. It is what it is.
Our method is based on partnering with agencies for change; researchers, innovators, social entrepreneurs and global developers who are driven by intrinsic motivation for social good and positive development.
We deeply and honestly strive to meet our partners' needs and to support what our partners seek to accomplish.
Our values are honesty, trustworthiness, transparency, accountability, professionalism, and respectfulness.
Cecilia Öman
Founder and CEO, HR&S
HR&S is uniquely positioned to serve institution managements, staff, and partners in Sub-Sahara African countries. We solve the challenges that our partners and clients present to us by using our unique and innovative management strategies and support packages while guiding through the whole process for our partners to reach their goals.

We reach out to academic institutions, advanced laboratories and
institutions empowering social entrepreneurs in Sub Sahara African
countries, as well as international development institutions, the
private sector SCR programmes, suppliers from Europe, philanthropists and givers. We address the outcome challenges that our partners identify and create institutional and individual roadmaps for our partners to reach their goals, benefiting from the unique and innovative HR&S Tools. We also empower researchers, technicians, innovators and social entrepreneurs to serve the under-served.
Our Services are:
Coaching on the HR&S management strategy for change.
We target Institution managements in SSA and their affiliated  researchers, technicians, and social entrepreneurs and offer training and coaching on management strategies.
Empowering social entrepreneurs
We offer training, coaching, expert advice, networks, physical infrastructure and business loans.
Livelihood improvement in under-served communities
through the HR&S empowered social entrepreneurs.
International development coordination
Tailor-made opportunities for external partners to benefit  from the
HR&S programme. We welcome local policy-makers, aid institutions, private sector CSR programmes, suppliers from Europe, and the civil society.
Management Strategies for Change
We have developed a unique and innovative set of management strategies that empowers institutions to implement capacity strengthening structures while testing the evidence for impact and ensuring a sustainable economy. We address scientific institutions, advanced laboratories, social enterprises, and development institutions.
Our management strategies are built on real-time evaluation planning, evidence-based impact, transparency and accountability, cross-cultural respect, and ethical principles. We have 15 years of experience from working in Sub-Sahara African countries in close collaboration with local stakeholders and have a firm strategy to ensure that we carefully learn our lessons and take informed decisions real-time. Funds and effort invested shall increase the success and the revenue of the institution.
Our value proposition is to understand our partner's ambitions, identify their challenges and to invest our wide variety of resources to solve our partners challenges. We develop a joint roadmap carefully explaining how to reach the goals of our partners, and we offer to coach every step on the way. Our proposed solutions are developed to results in strengthened capacity and solid management procedures while ensuring a sustainable economy, which also enable the institution to scale.
Our mission is social good and sustainable economy. We argue for a shift of paradigm where international collaboration builds on equal partnership rather than aid dependency. We have, since 2009, served 10,000 persons in Sub-Sahara Africa to reach their goals through improved capacity and strengthened economy. Our team is composed of professionals with unyielding ethics covering a broad range of experiences. Our team at HR&S Sweden, advisory board, expert advisers, local team of operations at our HR&S branches in eight Sub-Sahara African countries, and volunteer staff at Action10, all work together to serve our clients.
We offer to arrange a seminar where we explain our proposal, provide examples on previous achievements, and give room for questions and suggestions. Then, through a sequence of meetings and workshops, we want to learn about your ambitions and together we identify the outcome challenges. Thereafter HR&S develops a support package where these challenges are addressed.
Regional networks
We offer participants who has attended a 12 hour training and have passed the exam are welcome to join one or more of the the four HR&S SSA networks targeting our key stakeholders; researchers, technicians, social entrepreneurs and international developers. The networks are member driven; the members do not pay membership fee but invests work effort to run the networks.
Social enterprise support
We empower social entrepreneurs in Sub-Sahara African countries to scale their businesses. We offering local and international training, coaching, expert advice, local and international networks, business loans, physical infrastructure, and supplies. We reach out to social entrepreneurs with intrinsic motivation and agency for change concerning aid dependence.
RISE Support Centre memberships
We offer social entrepreneurs to become members of our RISE Centres. We establish HR&S Research Innovations & Social Enterprising (RISE) Support Centres in Sub-Sahara Africa countries, that support social entrepreneurs. The
RISE centres are operated by our local HR&S branches. We offer annual training on the SfC by HR&S Sweden with an examination opportunity. Those who manage the exam and have a registered social enterprise become eligible for RISE Centre.
membership. 
Membership leve ONE:  EUR 50 per year
RISE members are offered a business loan with 10 % interest. Business starts small and scales firmly. A secure accountability management programme is required. 
They become members of the the RISE member network of the country they operate in, and the RISE members cross-reference and support each other on the pay back achievements.
Members also benefit from local training and review on their Strategy for Change tool.
Members benefit from local training on accounting.
The benefit from local training in the lean start-up and scale up business- model.
The Centre arranges meetings and events for their network for team-building purposes.
They are welcome to join the regional HR&S SSA network for social entrepreneurs.
They have access to the HR&S network of expert advisers and agreed suppliers.
Membership level TWO:  EUR 200 per year.
A second level of membership at EUR 200 per year includes the above and also
Co-working space.
Access to internet and electricity.
Access to computers for sale.
Training on setting up websites and LinkedIn profiles.
Training on social media marketing.
Training & Knowledge sharing
Strategy for Change (SfC). We offer annual training on the SfC by HR&S Sweden. 
Lean start- and scale- up business model. We offer bi-annual training by the local Branches.
Finance administration & Accounting. We offer bi-annual training by the local Branches.
Knowledge sharing sessions. We offer a platform for knowledge sharing and cross-cultural respect awareness, our monthly ActionTalks. Each session is introduced by a presented and thereafter the floor is open for everyone to share.
International resource Centres
We also partner with international resources centre  with the purpose of sharing about the opportunities as well as, when possible, offer good deals for our clients.
Serving the under-served
We empower local social entrepreneurs to scale and thereby provide employment opportunities as well as locally adapted products and services to under-served communities. The overall aim is livelihood-improvement and we use evidence based methods to measurement if we have achieved a sustainable impact or not.

We have empowered more than five hundred local businesses to start or scale-up. Many have started in vulnerable settlements, generating an income, products and services to people who were previously without.  The products and services are: teaching, training in a profession, training in farming, coffee grower empowerment, electricity through solar panels, milling, health services, tailoring, sanitary pads, medicine, value-added crop, clothes, food, drinks, drinking water and more. Through this operation we also generate tax income to the government.
Evidence based measurement of impact
HR&S has developed a practical strategy for assessing if outcome and impact have been reached. The strategy is based on evidence and is called; TestE (Testing the strength of Evidence). We aim for scientifically sound evidence and to benefit from a control, randomization, quantitative statistics, qualitative probability assessment, and contribution tracing. We compile evidence for each expected outcome and each expected impact. The strongest cases use multiple forms of evidence, some addressing the weaknesses of others. Reported effects should be plausible as outcomes of the programme activities and consistent with the strategy for change and the observations compiled as evidence should be easier to reconcile with the programme's claims than with other possible explanations. Lessons learned on lack of outcome is key and renders a informed decision of strategy adaptation.
Examples of impact
Small scale businesses in rural Togo. Through small business loans, training and coaching to women in rural areas of  Togo do we reduce extreme poverty and increase community development. Our partners have reached 500 business women. Sustainable impact reached.
Integration of former child soldiers in Liberia. Former child soldiers attended our partner's survey about their ambitions for the future, which resulted in the creation of a botanical reintegration village in a fishing village outside Monrovia. Sustainable impact not yet reached.
Tailoring business in under-served area in Kenya. By supporting a local tailoring business do we decrease poverty in the Nairobi Kibera slum through empowering the entrepreneur, increase employment opportunities and providing beautiful clothes at an affordable price. Sustainable impact not yet reached.
international development COLLABORATION
We target international sustainable development as well as international development coordination and collaboration. We aim for equal partnership and synergies among the different development stakeholders and reach out to local authorities, local development institutions, aid institutions, private sector CSR programmes, suppliers from Europe, the civil society and supporters. We coach on the creation and implementation of practical road maps for development stakeholders to reach their development goals while testing the evidence of impact and our partners benefit from the HR&S innovative and unique management strategies, our local branches, network, our ongoing programmes, and our other resources.
Local authorities & local development institutions
HR&S addresses the outcome challenges presented by local authorities, local development institutions and other local development stakeholders in SSA, offering our own management strategies, local branches, network, on-going programmes and our other resources, to seek solutions to the challenges and thus facilitating for local stakeholder to achieve their own development goals. We also respond to local tenders where where we can support local authorities and institutions on matters identified by them.
Aid institutions
It can be concluded from 60 years of aid that "Help" as a mode of operation is inefficient; the number of extremely poor people in Africa is increasing every year. The Aid sector is rich with money but the support is is biased and volatile. HR&S  proposes an alternative to business as usual; i) we seek solutions to the challenges identified by local development stakeholder, ii) we empower local social enterprises rather than aid dependent NGOs, iii) we address accounting and accountability is an successful manner, and iv) we work with evidence based sustainable impact and sustainable economy. We offer seminars to explain our alternative approach to traditional Aid and we seek aid grants and respond to aid tenders to implement our alternative way of operations.
Private sector with corporate social responsibility  programmes (CSR)
We reach out to the companies with CSR programmes with the purpose of ensuring social impact in SSA while generating benefits for the CSR company. We tailor-make CSR support packages that are directly related to the company's mission, benefiting from the HR&S expertise and services, where we engage the partner company´s employees, customers, suppliers, and shareholders. Companies shall be promoted in a way that directly or indirectly increases their sales. We offer a series of workshops where we discuss a win-win collaboration and we offer coaching during the implementation. We also offer knowledge sharing sessions between the company staff and the HR&S SSA partners  and the topic is usually "Help entrepreneurs in Sub-Sahara African countries to overcome challenges in growing their businesses."
Agreed suppliers
We offer tailor-made programmes to facilitate sales in SSA for European Suppliers. Especially do we target manufacturers of advanced scientific equipment and their local suppliers.
Advanced laboratories:
We have the capacity to coach the establishment of functioning and accredited laboratories with advanced equipment and a sustainable economy. We offer a series of meetings where we discuss a win-win collaboration and we offer coaching during the implementation. Suppliers and manufacturers from Europe, and suppliers in Africa representing manufacturers in Europe, referred to as Agreed Suppliers as well as potential buyers of equipment are invited to the meetings. Procurement as well as service and maintenance procedures are discussed benefiting from the HR&S innovative FAST programme (Functioning Advances Scientific Equipment). If procurement occurs then HR&S takes on a coaching role and facilitates the communication and collaboration between the buyer and the seller. We target sustainable and safe deals for all parties.
Civil society
We reach out to organisations and individuals with interest in international development and offer seminars, workshops, and webinars where we share from our 15 years of lessons learned. We also offer cross-cultural awareness raising activities.
Supporters: Many want to be involved and to contribute, in their own small capacity, maybe by donating or by doing volunteer work. HR&S claims that the mode of operation must be based on intrinsic motivation, it must be efficient, effective, respectful, transparent and accountable to all stakeholders; the receivers, the partners and the givers. Moreover the support must generate evidence based impact and the administration cost outside the target country must be low; below 5%. HR&S offers a volunteer driven crowd-funding platform Action10, that is linked to the HR&S professional operations in the under-served communities in Sub-Sahara African countries.  Action10 offers a cross-cultural learning platform as well as raises funds to generate a capital that enables business loans to local entrepreneurs. Action10 is based in Sweden and the administration cost in Sweden is 3 %.
HR&S targets Sub-Sahara African countries and aim to empower researchers, innovators, entrepreneurs, and developers to excel and scale according to their own ambitions. We addressing the outcome challenges that our partners identify and create institutional and individual road maps. We also aim to empower the customers of the social enterprises that we collaborate with. We argue for a shift of paradigm, a transition from aid dependency to international equal partnership and sustainable economy.
Our services benefit from 15  years of experience from operating in Sub-Sahara African countries in close collaboration with local stakeholders. We have developed a unique and innovative ToolKit with ActionAreas from lessons learned and informed decisions. The HR&S ActionAreas includes:
ActionPrinciples (10).
Real-time outcome planning & evaluation.
Testing evidence based progress.
Truth & Trust.
Accountability management.
Stake-holder analysis, seeking agency for change and intrinsic motivation.
Cross-cultural respect including  ActionTalks & ActionEvents.
Local support centres (8).
Business loans (ActionInvest).
Thematic networks (4).
Access to expert advisers (30).
Sales of products by our local partners.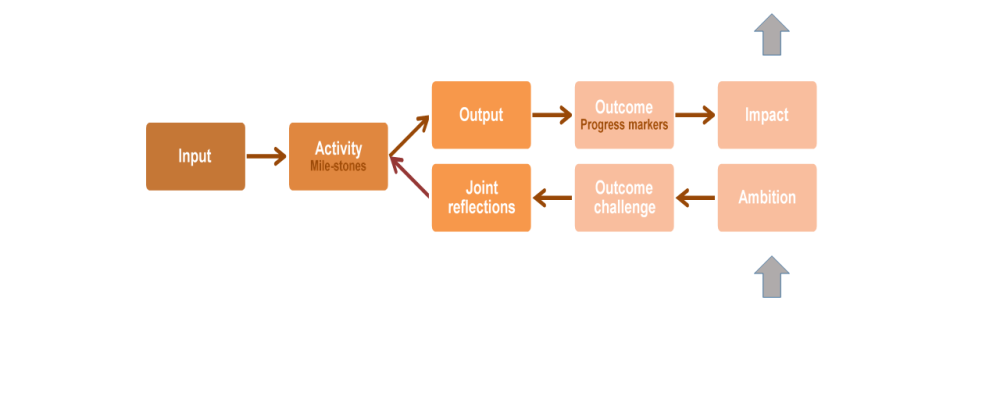 We reach out to academic institutions, advanced laboratories and institutions empowering entrepreneurs in Sub Sahara African countries, as well as international development institutions, the private sector SCR programmes and suppliers of scientific equipment.
Researchers, innovators, and social entrepreneurs in Sub-Sahara African countries who present amazing social business ideas are recognised and supported. Locally developed and locally adapted solutions are implemented and local enterprises that address the needs of the local people, are started, scaled-up and maintained. All countries can offer enough employment opportunities, and access to the products and services the community desires at the price they can afford. Governments build education system including the judiciary, national banks, higher education, health sector and other vital institutions.
Extreme poverty is eradicated and aid dependancy is replaced by equal partnership.